Collective Real Estate Ownership (CREO)
Application Closed
The Collective Real Estate Ownership (CREO) funding opportunity for 2023 closed on 8/15. Decisions for the final round of CREO applicants will be communicated by the end of September. In the meantime, you are welcome to apply for our ABLE loan fund. Future funding cycles will be communicated through our newsletter.
The goal of the Collective Real Estate Ownership (CREO) funding opportunity is to facilitate the purchase and shared ownership of commercial real estate by historically underserved, minority-led nonprofits and small businesses by providing down payment and closing cost assistance.
Scroll to the bottom of this page to access the application link.
What can I apply for?
Fully forgivable loans from $50,000 up to $500,000

These funds can be used to 

cover down payment and select closing costs incurred at closing* for the purchase 

of a 

collectively-owned commercial real estate property. Click here for additional funding details.
If awarded, the loan is forgiven over a 5 year period, provided conditions are met, such as not reselling the property
*Applicants pay for costs incurred prior to closing out of pocket, such as appraisal, inspection, environmental, and mortgage application fees
Am I eligible?
To apply, you must be:
A collaborative of 2 or more

small businesses and/or small nonprofits

Owned or led by a person who is: Black, Latino, LGBTQ+, veteran, and/or disabled

In operation for at least 2 years

Based in and serving Miami-Dade County

Interested in a p

roperty located is in one of these

communities
What do I need to apply?
Complete an application to describe your organizations and your plans for the property.

Strong applications have already identified a subject property and have a relationship with a realtor, mortgage lender, and attorney. 




Required attachments include:

Project timeline and

project budget

Resume or bio for lead of each organization

Lead applicant's business or strategic plan

Copy of financial statement* and/or operating budget for each organization
Copy of cash flow projections* for lead organization

Copy of mortgage preapproval and/or purchase agreement, if available
* Templates for financial statements and cash flow projections are provided, but not required to be used. Project budget template must be submitted.
What is the timeline?
Applications are due by the 15

th

of every other month:

April 15th, June 15th, August 15

th

Decisions will be shared by the end of the following month

Example: Apply by 4/15/2023, notified by 5/31/2023
What if I need help with my application?
How will decisions be made?
Approximately 4-6 collectives will be funded this year.

After each deadline, we review all applications using the same criteria below. Applications that score the highest will be funded.

Proposal is feasible and aligns with program goals to support small businesses

Owner(s) represent multiple aspects of historical disadvantage

Collective ownership model is concrete and aligns with program goal of shared equity

Financing plans and estimated payments are realistic and attainable

Collaborative members have strong organizational and financial capacity

Proposal will provide high-impact and create benefit for the community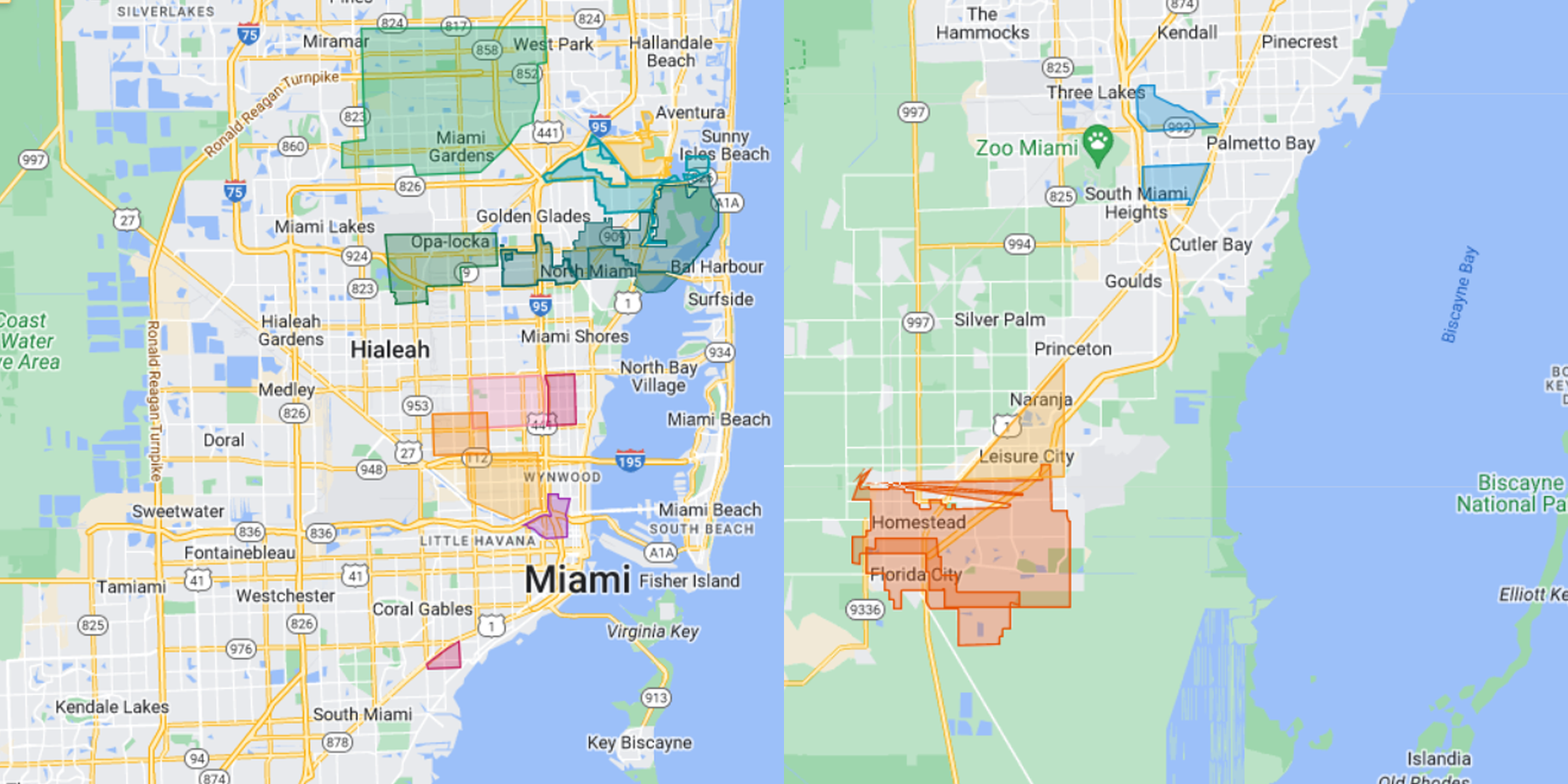 North Dade
Miami Gardens
Opa Locka
North Miami
North Miami Beach
Central Dade
Allapattah
Brownsville
Liberty City
Little Haiti
Overtown
West Coconut Grove
South Dade
Homestead
Leisure City
Richmond Heights
Naranja
West Perrine